DISCLAIMER: The modifications described in the following text are for educational purposes only. In no way do I recommend that you apply these modifications to your own motorcycle. If you do choose to go ahead and modify your motorcycle based on the information in this document you will accept all responsibility for your own actions. The author(s) of this document, and host(s) providing it for you, accept no responsibility whatsoever. If you are unqualified to make any of the changes described herein but are bent on doing the modification, seek out a knowledgeable friend or professional mechanic for assistance.
Fitting a new solenoid
Having checked and cleaned the starter switch and starter motor brushes, I was still only getting a click when pressing the starter button so the culprit seemed to be the solenoid.
A nice clean and simple job thank goodness.
Tools needed:- no special tools are needed but 8mm and 10mm sockets will make the job easier.
Parts/supplies: New solenoid - see here - which looks like this: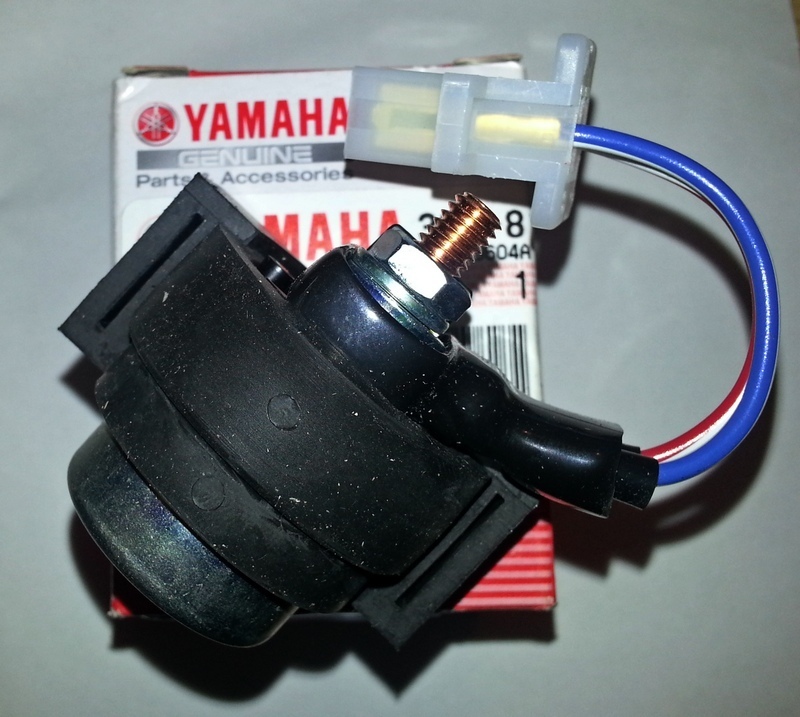 Remove the side panel and battery. Then remove the three 10mm bolts holding in the battery tray and take out the tray.
To remove the old solenoid, undo the 8mm bolt that holds it to the shock reservoir bracket and the 10mm nut that secures the black starter lead.
The old solenoid can then be removed after disconnecting the feed from the starter switch (single bullet connector) and the live feed going back to the loom (two-way block connector) as shown in the photo below.

Disconnect the thick red positive battery lead, pull the old solenoid and mounting rubber off the metal holder and fit the new one. Then re-attach the red lead.
Reconnect the two connectors and the solenoid is ready to bolt back in.
Once back in place, replace the 8mm bolt and fasten the black starter motor lead onto the new solenoid with the 10mm nut supplied.
Fit the insulator back over the terminal, and refit the battery box, battery and side panel.
Job done!
Brian Sussex

Compiled by Brian Sussex, Devon, UK
http://www.totallyttrs.com/ - everything you need (possibly!) for your TTR250
http://www.ttr250.com/ - all you ever wanted to know about TTR250s
http://ttr250.activeboard.com/ - the forum for TTR250 owners
http://www.totallywrs.com/ - for all your WR250R and WR250X after-market parts and accessories
Reference within this site to any specific commercial or non-commercial product, process, or service by trade name, trademark, manufacturer, private individual or otherwise does not constitute or imply an endorsement, recommendation, or favour by Brian Sussex or Totally TTRs